ESLA Growing E-Sport Games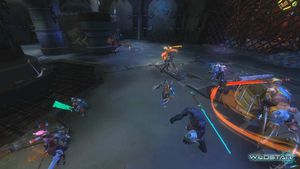 As the winter comes around again it's that time to look at what games we'll be looking to train on during the bad weather. The tournament season is fairly quiet this time of year so it's the perfect time to reign back a bit and recoup.
Honestly we're a little bored of the LoL and CS:GO scene after the run this year. We've had our best results yet but the grind it takes to get there just isn't worth the effort.
Our other move was going to be into Hearthstone but we've just never had the drive to train properly for it. So we've narrowed it down to either DOTA2 or making an even bigger jump.
Since Wildstar went free to play and the remove the whole attunment nonsense the games population has been growing and we've always found the PVP game fun even back when the game itself really wasn't.
So this season we're going to take a bit of a gamble. In the hope of Wildstar growing and forming a good competitive scene we're training in the Wildstar arena and we've enrolled two teams in a few of the community driven tournaments coming up.